BOTSWANA: Part 5

If you missed it, read these first:
Day 8
Third Day Running
Today was, by far, the toughest day for myself.
Hannah was still recovering, but well enough to walk. She was planning on walking as far as she could that day. Gill and I set off from Kubu Island, earlier than we had on the previous days. Knowing how treacherous the sun becomes in the afternoon, we were trying to get as much running in before lunch as possible. We held a unhurried pace, slow but steady. We were about 4 kilometers in when Gill stopped, bent double, and puked. She had mentioned that she felt a bit queazy before, and when she stopped heaving, we continued running. Gill was very composed.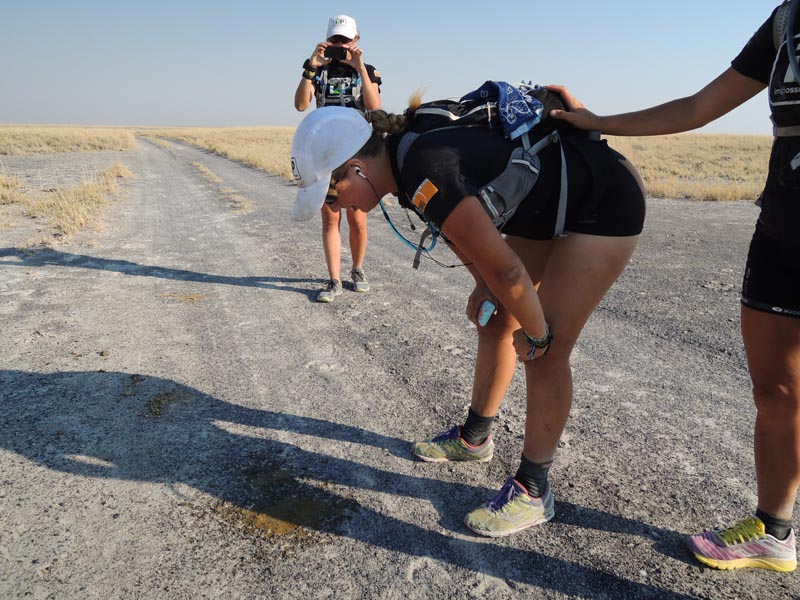 No one is safe from the cameras– especially when you're throwing up.
Gill, you're BA, girl.

As we continued, though, Gill stopped and threw up, again. Something wasn't right. She tried to push through it, but Doctor Christina noted that throwing up liquids and having a hard time keeping them down just spells disaster in the environment in which we were running. We had a suspicion that both Gill and Hannah were feeling the ill side effects from the malaria pills they had been prescribed. Everyone had started taking their malaria medication about a day ago, where we became two days away from entering the malaria zone. The onset of nausea for Gill and Hannah coincided with beginning to take the medication, where an upset stomach is a well known, common side effect. Gill climbed onto the support vehicle to go join Hannah and Kathy in walking for the day.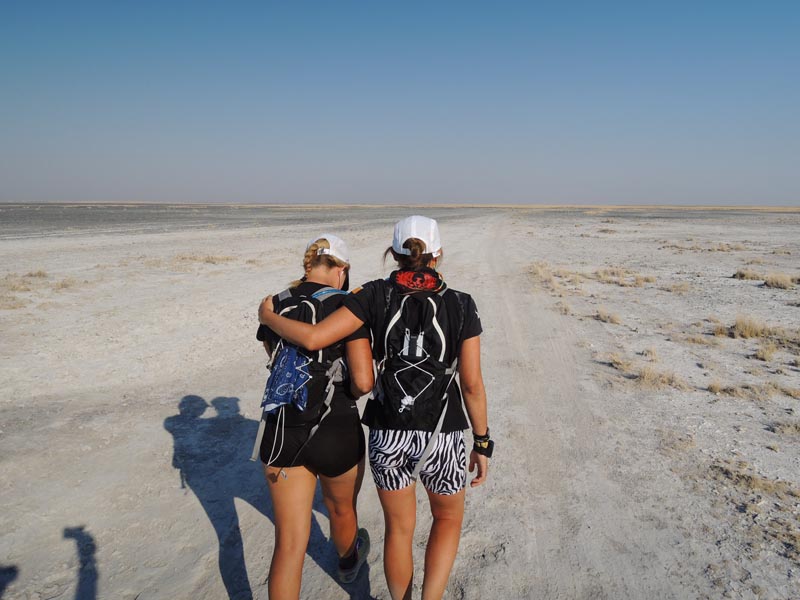 I continued running.
It felt phenomenal to run. And I don't mean the speed walking pace I had been holding before, but RUN. I reminded myself to hold a pace, though, and targeted a 10 min/mile. It felt good. It felt right. I set a goal to cover marathon distance (42.2 km, 26.2 miles) before lunch.
I didn't want to stop, not at the support vehicle, not for anything. I ran into the support stops, handed off my water bladder to be filled up, grabbed something salty, and continued walking while my water bladder was being filled. The support vehicle would drive up, pass back the hydration pack topped off at 2 liters, and I would tell them to drive another 5 km – I was on a roll!
It was nearing lunch. The sun was climbing higher in the sky. The air coming off the earth was hotter than the surrounding air, the wind blowing it in mine and Ferg's face. I ignored it. Just as I began to ignore the pain in my legs. It was soon, though, that the pain became difficult to ignore. I slowed, reminding myself it was okay to also incorporate walking breaks. The pain was a familiar one: lactic acid. Each stride felt like the beginning of a cramp, and each step the strain of muscle fibers…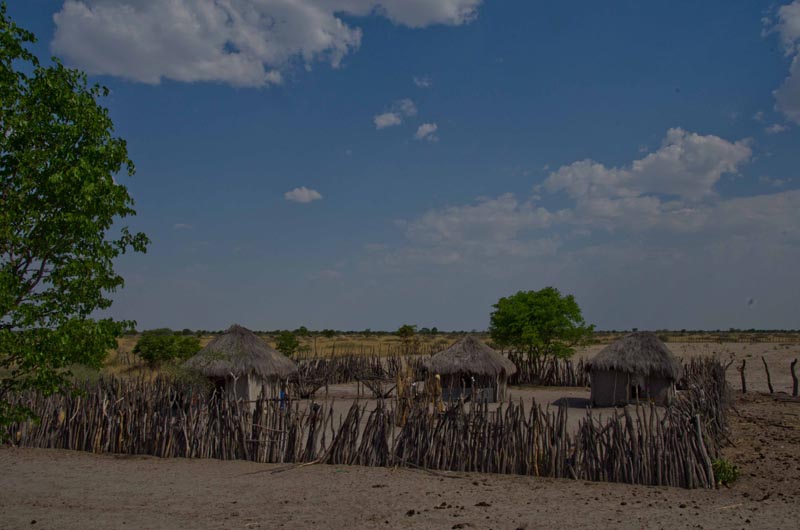 Started to pass a lot of these ranches.
We stopped early for lunch in the shade of a huge baobab tree, in the back yard of a farmer's ranch. It was the largest baobab we had seen yet. While it was not yet 1 PM, our usual lunch time, we had decided to take lunch early. I hadn't reached the 42.2 km mark, but I was close at 35 km (if I remember correctly). I was so thankful to sit. My legs were really aching, although I didn't want to admit it. After eating, I lied down for a nap, but Christina approached me. Inquiring how I was doing, she asked about my legs and if I had used the bathroom yet.
I hadn't.
I hadn't used the bathroom since that morning.
My legs felt like they had a lot of lactic acid build up.
Doc Christina nodded solemnly. "Well, I need you to use the bathroom before you can go run again this afternoon."
WHAT? I understood perfectly, and I had been drinking a LOT of water, but I didn't want to get pulled from running like Hannah and Gill. I HAD to run– one of our team HAD to. Ray came up, joining Christina and I. He explained that the lactic acid feeling I was getting in my legs was an indication of poor kidney function, as well as the dehydration. Something that could land you in a hospital. Something they weren't going to risk. And neither was I, spoke my rationality. Let's chug some water, exclaimed my pride.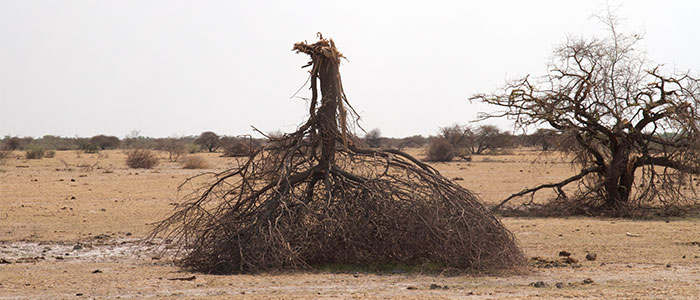 We kept running by upside-down trees. Elephants dig them up to get at the roots.
Ray gave me coffee. Christina gave me Gatorade. I drank both. It was gross. Laying in the shade for an hour, sipping water, electrolytes, and caffeine, I finally went and used the bathroom. Taking this as a good sign, Christina allowed me to ready myself to continue running, giving warning that she reserved the right to pull me should alarms be set off. I nodded, grabbed my hydration pack, and set back out with Ferg. My legs felt renewed. I was running the pace I had set for the morning. It was a merical!
And it lasted all of about 3 km.
It was ungodly hot. My pace slowed. The lactic acid had returned. Why was this so hard? It shouldn't be this hard! I wasn't even at marathon distance yet! I've run plenty of marathons, without problems like this… I've run a multiple day ultra, much farther in distance, and didn't have problems like this before… what was going on?
Make it to the marathon.
Make it to the marathon.
Make it to 42.2 km.
I wanted at least the marathon distance.
I vented to Ferg. I was embarrassed. I was frustrated. I can do this, I know I can!
The tears came. Silent. I choked them back. I was reaching a wall, I was in the wall, the wall was a well, and I was drowning in its depths in the middle of this desolate, dry, desert. I wasn't sure if I was crying from pain, the lactic acid, or the feeling that I was drowning in emotion.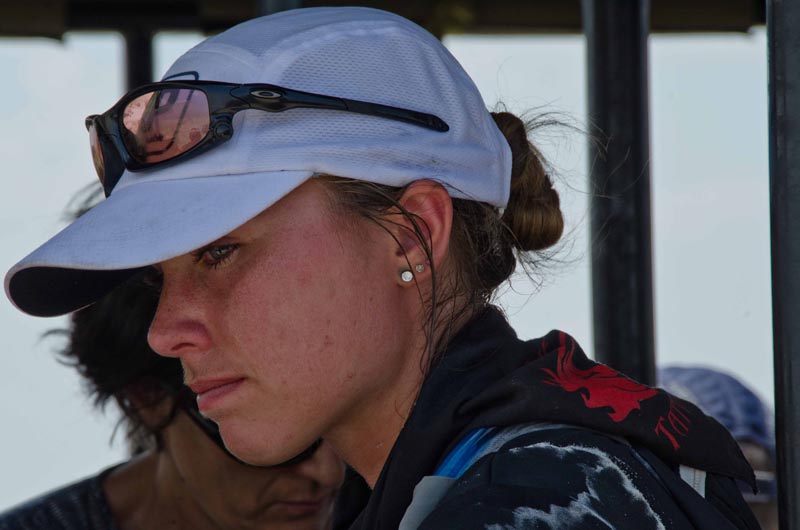 Yeah, I'm crying. What of it?
I cannot explain this emotional breakdown.
You just have to run. Until you hit that ocean.
Then you'll understand.
I've encountered this ocean once before, in my Run2Tech. It was what had pretty much ended the run, short of its goal. Despite all of my logical reasoning, that I was injured, that I didn't want to get injured more, that I had to be strong for the rowing season, the true reason I broke down in the Run2Tech was because I hit this ocean that I did not know how to cross. I had stopped that last time, and it felt more like a failure than a learning experience, and I regretted stopping after making the decision. I wasn't going to stop this time. I was going to learn from that experience, and apply it. So how do you push through this emotional barrier?
You keep running.
Until the ocean runs dry.
You run. You don't think about it.
You just go.
And that's very nice to say, but it isn't easy. Not one damn bit. But I kept running, trying to hold it together, but when Ferg announced the 42.2 km mark, I lost it. I let out a cry, and just let myself sit. I sobbed and wailed. It was really attractive. Bob had been just over the hill with Gill and Hannah– we had just passed them walking– and he heard, and bolted up to Ferg and I, under the impression that something was wrong. Oh Bob, he is such a dad. Seeing I was alright and just emotionally distraught, he somehow managed to calm and comfort me.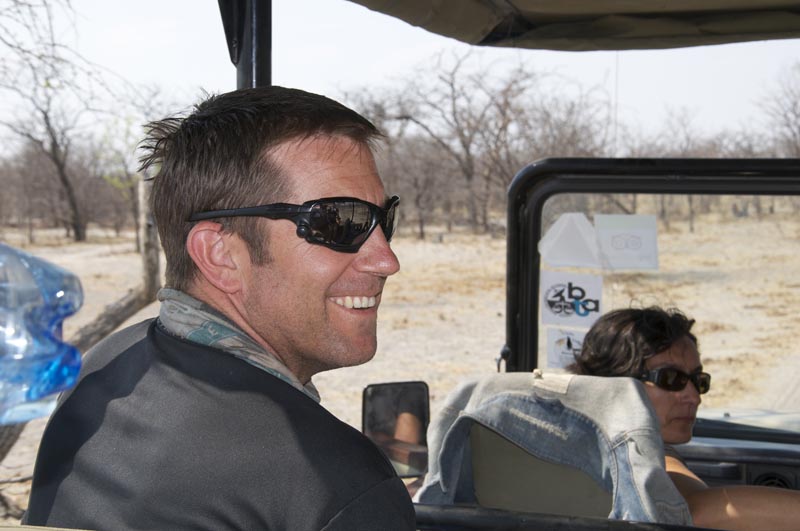 This is Bob. Bob is awesome. Thank you for your awesomeness, Bob.
I got back up. For some reason, reaching the marathon mark in my mind broke the web I had woven to hold myself together. The pain flooded in. Physical and emotional. I tried to run, but it was so slow. Walking was faster. I joined up with Gill and Hannah, not really walking with them, not really walking alone, stuck in my mind, sorting the discomfort. I stopped at 44 km. Gill and Hannah had been able to walk about 20 km that day.
Check out those salt pans...
It was a tough day for all of us, made tougher by the fact that we couldn't find camp. By this point in our running, we have moved adjacent to the salt flats, onto sandy roads that wandered between ranches and villages, through forests of twig-like trees. The sand would be deep then shallow, rutted then packed. The roads would split and come back together. Our vehicles– the support jeep, education jeep, and safari jeep that transported camp– all became separated in the second part of the day. The safari jeep had wandered off to make camp. We drove around, in search of our tents, of dinner, of rest, only to end up back by the baobab tree where we had lunched. The road had split at this point, and we had, apparently, been running the wrong way. Camp was down this road, a nice drive.
I have never been so happy to spend an evening sitting in my life.
Day 9
Last day running.
It was agreed that we would stick together as a team for our last day. Gill, Hannah, and I set out. Gill and Hannah were both feeling much better, although they still didn't feel 100%. I felt like total crap, but I tried not to mention it to anyone. My feet really hurt. I didn't really have any visible blisters or toe nails hanging off, but the bottoms of my feet just felt bruised. I had switched from my New Balance 110s to my Saucony Kinvara 2s for today, as they were softer, despite the holes they have in the webbing going across the toes. It just made it easier to shake the sand out.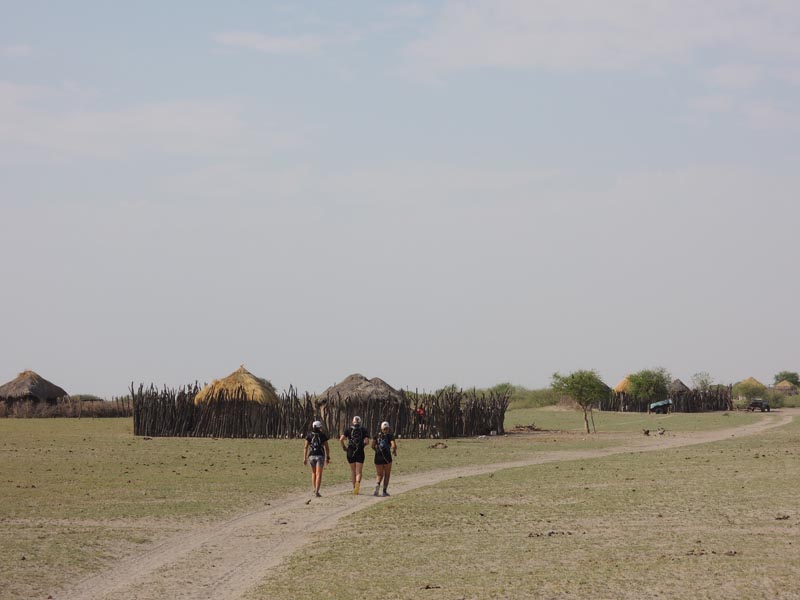 Gill, Hannah, and I.
I ended up power walking much of the first part of the day. Gill and Hannah were setting a pace that was comfortable for them, that they could hold so that we could cover the full 50 km. That was perfect! I just couldn't run that pace– it was more painful for me to go at that pace than it was to walk. If I wanted to last the day, I had to walk. We were traveling at about 6-7 km/hour. I was wearing the Garmin watch, and it was my job to keep the pace below 7 km/hour. Going over or pushing the pace too much would spell nausea for Gill, discomfort for Hannah, and the risk that I migh push too much too early in the day.
We actually came across our first watering hole. It was the first we had seen in all of our travels across the desert. It was shallow, brown and mercy, and surrounded by cows. More like a mud hole. It was hidden in the trees. The trees here had leaves that were actually green. We were leaving the desert. The twisting branches of the trees provided some shade, and a lot of noise. The trees housed insects that were deafening. There were sections of the "woods" where you couldn't hear the person next to you talking. It was crazy how loud these bugs were. There was little to no undergrowth in this area, just sand. At one point, as we ran away from a pit stop, the wind whipped up a cloud of sand around the support vehicle, creating an isolated tornado. Everyone on board let out a yell of surprise. It was something we should have caught on camera, but didn't
The day felt like it was never going to end. It got hot, but wasn't as bad as previous days. We had the trees, and clouds rolled across the sky. I was thankful for this, and for Ferg, as he squirted water across the backs of our necks.
Despite the good fortune, I spent most of the day staring holes into the ground. I hated it. I wanted to stop. It was all a mental game at this point. My body kept moving, and my mind kept yelling "NO!" I set my body on auto pilot and let my mind curse everything out– because being angry made me feel better. Yeah.
So I spent the day being angry.
Until we hit about 10 km to go.
10 km? Is that all we have left? For some reason, I hadn't expected us to cover the full 50 km that day. I had been worried something would go wrong, but now that we were only 10 km from the finish, it seemed totally attainable and unreal simultaneously. We were nearing the end. The end of a long run. The end of the expedition. What did that mean? Excitement and sorrow pounded through my veins in unison.
Ray and the expedition team caught up to us at the next aid stop and told us that there was a village ahead. "We're going to run through the village, and film you running with the kids!" Ray exclaimed. Hope and Saskia jumped down from the support vehicle to join us.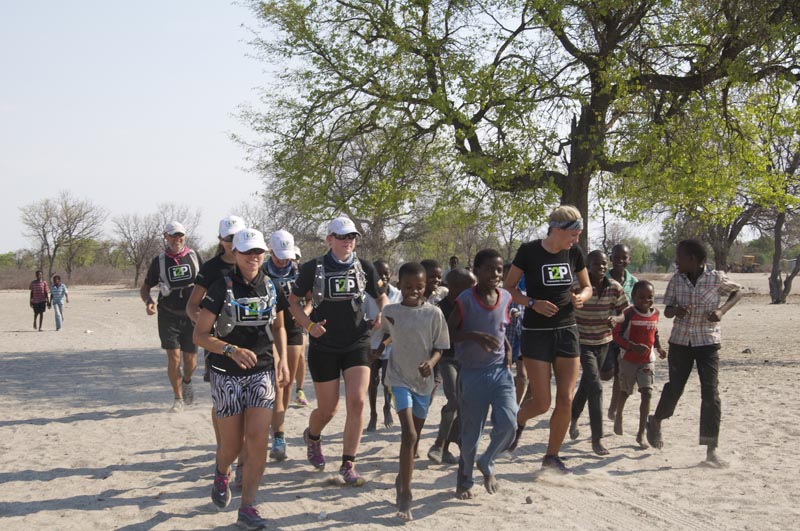 The village emerged out of the trees, a clearing containing homes and a school adjacent to a soccer field. Children were walking in packs around the yard, while others playing soccer stopped their game to take notice of the visitors. I was excited, but felt kind of silly, as we approached the village– here we are, some random white kids running in the woods, with no words spoken, just run up and do a lap around the soccer field.
But the kids ran with us. Smiling and barefoot, skinny and small, they ran– and they ran fast! It was an adrenaline rush.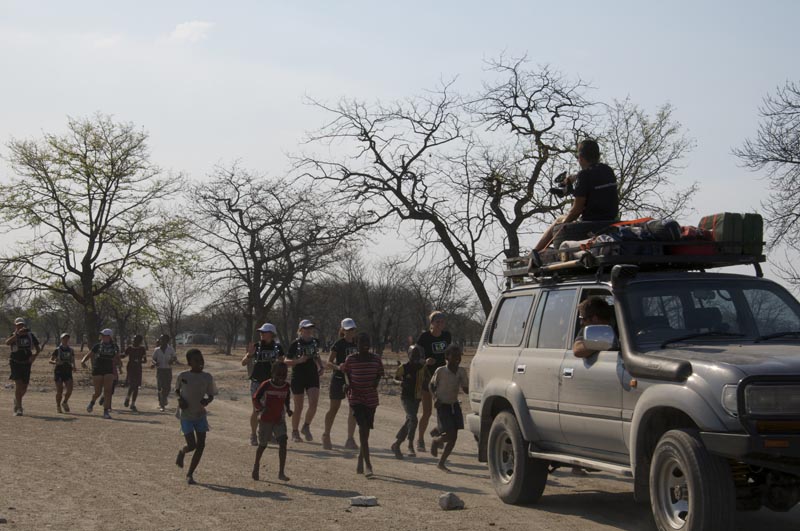 A small girl approached me, carrying a note book. "Pen?" She asked. Seeing her journal, I though maybe she'd like to write in it. Oh hey, I do have a pen, in the support vehicle. I stopped to reach in my bag, and give her my pen. Surrounded by children, I looked at her sternly, and noted "But you have to share!" She took the pen, without thanks, and seeing my watch ask: "Watch?" I smiled and shook my head no. "No, I'm sorry, I need this." Disgruntled, she stalked away.
As we finished our lap around the village, waving good-bye, I relayed this story to Hope. "No way!" she yelled. "She asked me for a pen too!"
"Did you give her one?"
"Yeah."
"Wait, what?!?" Ferg joined in. "You guys gave her a pen? But I gave her one too!"
The little trickster had conned us out of three pens. We all laughed.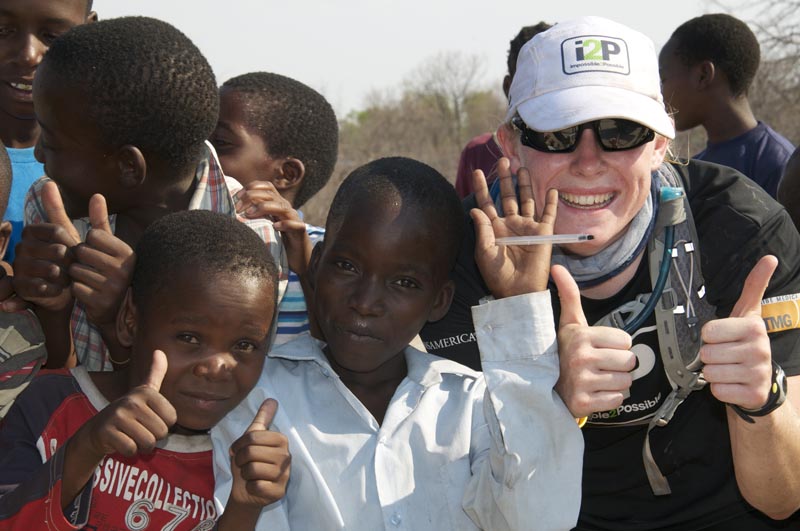 Hannah (different kid with a different pen). Thumbs up, dudes.
With 5 km to go, Nansen and Marie joined, as well as Ray and Bob, and more from the expedition team. All pain was gone. I was walking on sunshine. I could have PR'd that last 5 km. But we ran as a pack. At 1.5 km to go, the expedition team left the youth ambassadors and our support runners to go set up the finish line. Only a mile left.
Longest.
Mile.
Of.
My.
Life.
We rounded each bend, expecting to see the i2P banner set up, only to find another stretch of empty sand. It was definitely more than a mile, and we all thought Gill was going to lose it at one point ("I'm going to lose my ***** if they aren't around this next bend!" [ love you Gill! ]), but we finally came across it.
We had made it!
Upon stopping, I felt like I was going to faint. I was dizzy. Gill lied down. Hannah cheered. Everyone celebrated.
50 kilometers. As a team. It was what we had come here to do. And we did it.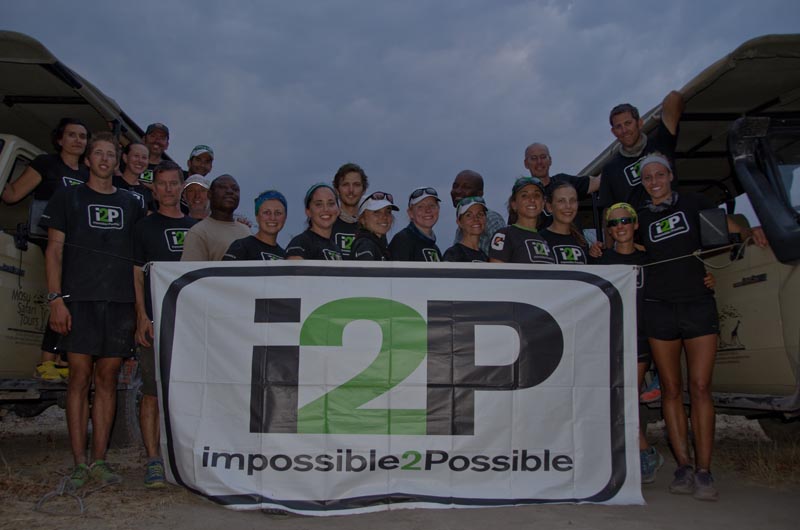 After photos, we clambered into the jeeps, ready to hit camp and eat some grub. We turned off the sandy road and onto a paved one, a luminesce in the distance. The orange glow wasn't from the setting sun– it had disappeared a while ago– but a wild fire. Arriving at camp, Ray and Bob were in a tizzy. We had to move camp, we couldn't camp here, not next to a fire! Given, it was a distance away, but there was the danger of it traveling in our direction. Dismayed and hungry, we left camp to let the safari crew pack up. We felt bad– Cookie had had dinner all prepared, and our stomachs had been all ready to eat it.
We drove to an official campground and pitched our tents there. Despite the inconvenience of having to move, it was nice to be at a campground where we could take a shower. First shower in weeks and it was amazing. There has never been a better invention, I swear to god.
It was strange to not have to prepare for running or education the next morning. All we had to do that evening was relax. The next day we would be going on Safari. I slept soundly that night, but apparently there was a wind storm– It did, however, freak some members of our group out enough to make them huddle with their tent mate throughout the night.
Reflecting as I fell asleep that night, I was thankful to have been granted this experience,
satisfied with our successes and failures in education and running,
overjoyed to have met everyone on the expedition,
happy that I wasn't running the next day,
sad that I wasn't running the next day,
homesick but not ready to leave,
and most of all: content.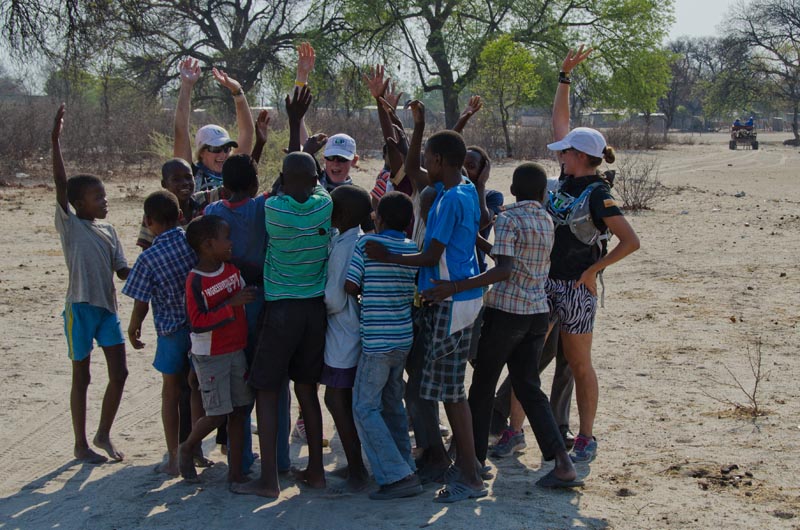 To be continued in next blog posts: